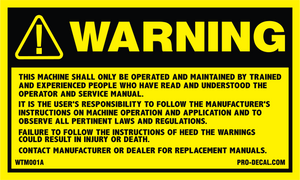 Warning This Machine 3" x 5"
Self Adhesive Vinyl Decal 3" x 5"
"Warning this machine shall only be operated and maintained by trained and experienced people who have read and understood the operator's and service manual.
It is the users responsibility to follow the manufacturer's instructions on machine operation and application and to observe all pertinent laws and regulations.
Failure to follow the instructions or heed the warnings could result in injury or death.
Contact manufacturer or dealer for replacement manuals."
SKU: WTM001A
---
We Also Recommend