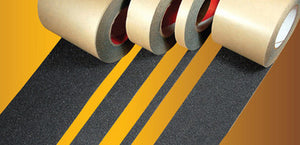 SAFE STEP Anti-Slip Tape 4" x 60' Roll
Prevent accidents indoors or outdoors with StepSafe 80 grit, highly effective, easy-to-install abrasive materials. Available in standard size ROLLS and CUT PIECES.
StepSafe is an 80 grit, pressure sensitive backed tape used for exterior and interior applications to help eliminate accidents due to slippery surfaces. Typical applications include stairways, boats, boat docks, ramps, truck steps, bus steps, tractor fenders, recreational vehicles, vans, snowmobiles and many more. StepSafe is applied by simply removing the paper liner, positioning and pressing into place (we suggest a roller be used in this application) on almost any clean, dry surface.
SKU: SS4600
---
We Also Recommend