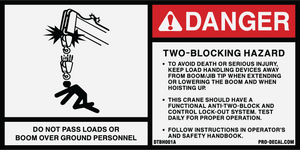 Danger Two Blocking Hazard 4.25" x 8.5"
Self Adhesive Vinyl Decal 4.25" x 8.5"
"Danger two-blocking hazard.
To avoid death or serious injury, keep load handling devices away from boom/jib tip when extending or lowering the boom and when hoisting up
This crane should have a functional anti-two-block and control lock-out system. Test daily for proper operation.
Follow instructions  in operator's and safety handbook.
Do not pass loads or boom over ground personnel."
SKU: DTBH001A
---
We Also Recommend