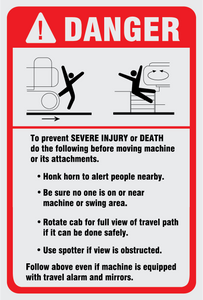 Danger To Prevent Injury or Death 5.75" x 3.875"
Self Adhesive Vinyl Decal 5.75" x 3.875"
"Danger to prevent severe injury or death do the following before moving machine or attachments:
Honk horn to alert people nearby.
Be sure no on is on or near machine or swing area.
Rotate cab for full view of travel path if it can be done safely.
Use spotter if view is obstructed
Follow above even if machine is equipped with travel alarm and mirrors."
SKU: KDI001
---
We Also Recommend