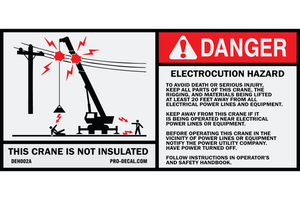 Danger Electrocution Hazard This Crane Is Not Insulated 4.5" x 9.5"
Self Adhesive Vinyl Decal 4.5" x 9.5"
"DANGER ELECTROCUTION HAZARD. To avoid death or serious injury, keep all parts of this crane, the rigging, and materials being lifted at least 20 feel away from all electrical power lines and equipment.
Keep away from this crane if it is being operated near electrical power lines or equipment.
Before operating this crane in the vicinity of power lines or equipment notify the power utility company. Have power turned off.
Follow instructions in operator's and safety handbook."
SKU: DEH002A
---
We Also Recommend