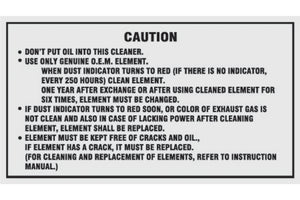 Caution Do Not Put Oil Into This Cleaner 3.5" x 6.25"
Self Adhesive Vinyl Decal 3.5" x 6.25"
"Caution: Don't put oil into this cleaner.
Use only genuine OEM element: when dust indicator turns red (if there is no indicator, ever 250 hours) clean element. One year after exchange or after using cleaned element for six times, element must be changed.
If dust indicator turns to red soon, or color of exhaust gas is not clean and also in case of lacking power after cleaning.
Element must be kept free of cracks and oil., If element has crack, it must be replaced. (For cleaning and replacement of elements, refer to instruction manual.)"
SKU: KCAC001
---
We Also Recommend